Hydraulic Home Lifts in Hyderabad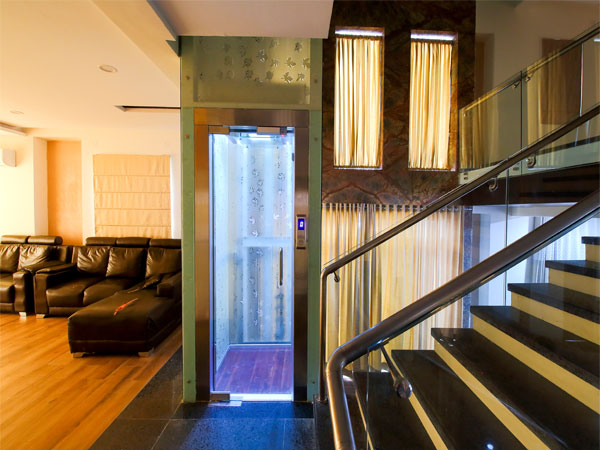 December 1, 2022
0 Comments
Salzgitter Elevators is a hydraulic home lifts manufacturing company based in Hyderabad. We install home lifts, residential elevators, stair lifts, platform lifts, cog belt home elevators, gearless residential lifts, and hydraulic home elevators all over India for small houses, villas, bungalows, buildings, and luxury homes. Other types of lifts include gearless residential lifts and cog belt home elevators.
Why do we use Hydraulic Home Lifts in Hyderabad?
Hydraulic home lifts in Hyderabad find utility in a wide variety of contexts and context-specific applications. Because they are an efficient method of raising and lowering people, goods, and equipment, they can be found in a variety of industries, including the automotive, shipping, construction, garbage removal, mining, and retail industries. Loading doors on tractor-trailers are an excellent illustration of a typical application of hydraulic lifting equipment that is integrated into a significant number of today's vehicles.
Hydraulic home lifting equipment is preferred over other types of lifting equipment due to the fact that it is exceptionally dependable and, in most circumstances, simple to maintain. Other types of lifting equipment can break down or become difficult to repair. Hydraulic pressure is the driving power behind all hydraulic lifts, regardless of whether or not they make use of air compressors. This is due to the fact that an air compressor is required to pressurize the hydraulic oil and fluids before the lift can raise a weight. Therefore, the utilization of air compressors in conjunction with hydraulics results in the provision of a lifting method that is both secure and dependable. The lifting equipment would not function properly if either of these were missing.
Types of Hydraulic Home Lifts
Hydraulic Home lifts in Hyderabad equipment come in a wide variety of forms, including scissor lifts, two-post lifts, four-post lifts, and carousel lifts, amongst others. Because each variety of hydraulic home elevators is intended to perform a certain function, there are some varieties that are more commonly used in some fields than in others.
The construction business is the most obvious industry that can profit from hydraulic lifting equipment. Because of their role as components in forklifts and other transport machines, hydraulic lifts play a crucial part in the construction industry. This is due to the fact that forklifts are the most common type of construction machinery. For the most part, hydraulic lifts in Hyderabad are fully capable of being integrated into vehicles and equipment, which is one of the reasons why they are such a significant instrument in the construction business.
In addition to its usefulness, hydraulic lifting equipment has a position in public venues. Hydraulic lifts are utilized in public transportation vehicles such as buses and vans to facilitate better access. Additionally, hydraulic lift for home in Hyderabad is utilized in healthcare facilities such as nursing homes and hospitals to facilitate access to difficult-to-reach areas and other problematic locations. Hydraulic lifts are another loading aid utilized by the military, and they are installed on armored vehicles.
Hydraulic lift for home in Hyderabad are still in use in some older buildings; however, due to the shorter distances that can be traveled by these lifts, they have been mostly phased out in favor of electrical lifts throughout the course of time to accommodate the expanding scale of buildings.
In general, hydraulic lifting equipment plays an important part in a variety of industries, and without it, a great number of tasks would be more difficult to accomplish. As a method of lifting, hydraulic home elevators are currently unrivaled in the markets for automobiles, shipping, building, garbage disposal, mining, and retail. There is a possibility that hydraulic home elevators will be replaced in the future, but for the time being, they continue to be the industry standard.
You can call us at +91 9440800224 or send us your details here and we'll get in touch with you.
Salzgitter Lifts makes choosing and installing Hydraulic Home elevators easy and affordable.